Carpet Maintenance Programs
Customized carpet programs for
your specific business needs.
Customized schedules
Customized services

Eco-Friendly Carpet Cleaning
Proven to extend the life of your carpet and upholstery.
100% non toxic
Green Seal Certified
The Berkshire Services dry carpet cleaning process uses 3-steps: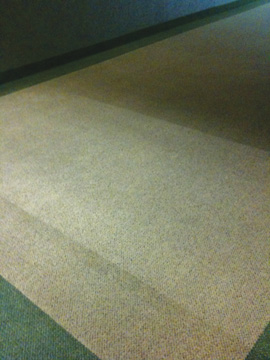 Step 1: Restoration
We apply a pre-spray to the carpeting and machine-agitate it with deep spinning cylinder shaped bristles. These brushes can be changed from soft to firm, depending on the type, and cleaning needs, of the carpet.
Step 2: Dry Cleaning Extraction
Dry cleaning extractor is put onto the carpeting and agitated again and repeated several times to ensure all soiling has been removed. The dry cleaning extractor is then slowly removed using a vacuum containing three filters that is specially designed to pick up fine particles.
Step 3: Spotting
We walk through the entire facility and remove any remaining stains by hand with spot cleaners. We use a variety of Green Seal Certified, and CFC-free, hand spotters.

Our upholstery and upholstery maintenance system uses the same 3-step process except it is applied entirely by hand due to the delicate nature of these materials.